| | | |
| --- | --- | --- |
| Welcome | | You are not currently logged in. |
| | | |
| --- | --- | --- |
| | | |
| | | |
| | | |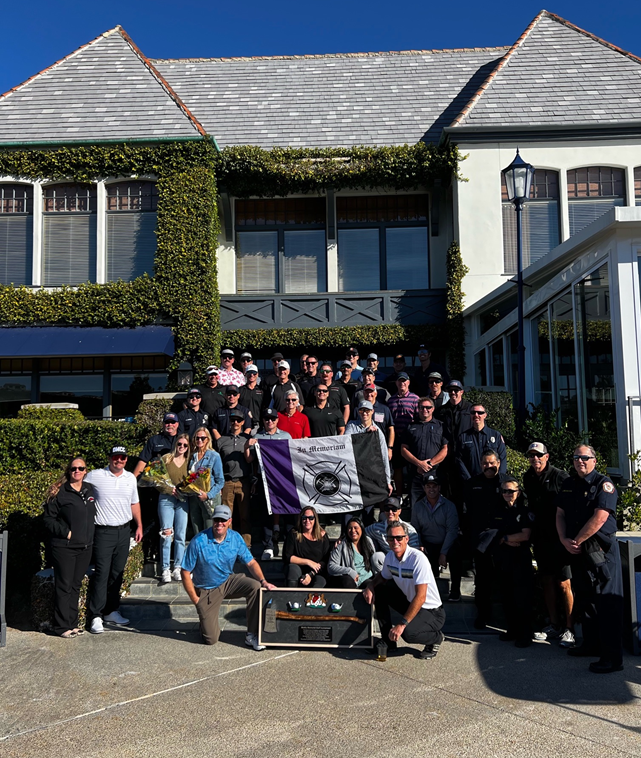 The Local 4349 Rancho Santa Fe Firefighters honored a fallen brother today during the 2nd Annual Dale Mosby Golf Tournament at the gracious invitation of the Del Mar Country Club.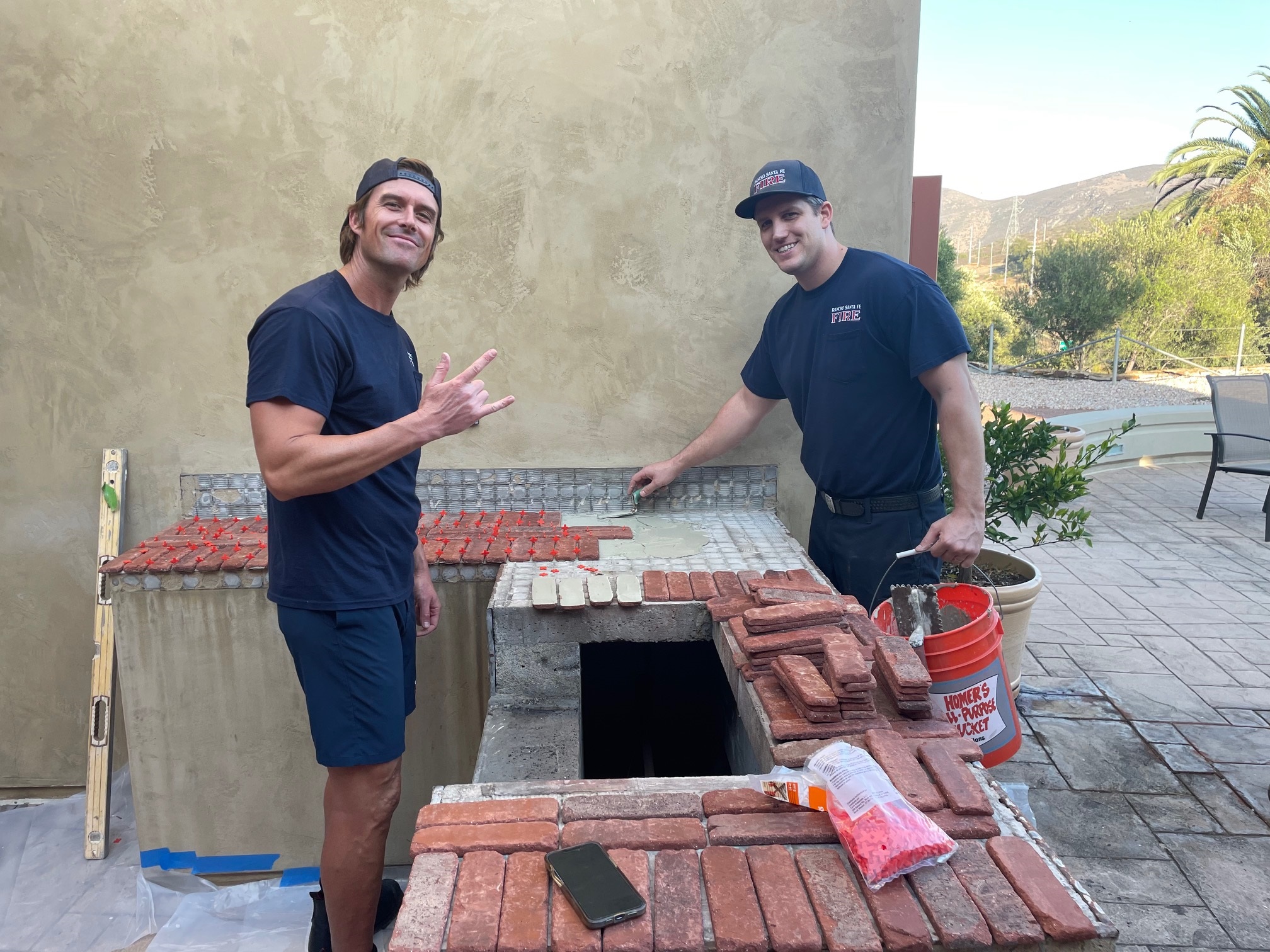 It is often said that firefighters are a "Jack of all trades." The truth of that is both evident on scene of an emergency as it is around the firehouse. Each person we hire bring a certain unique skill to add to the district's diverse abilities. When responding to an emergency, the first person on scene has a myriad of responsibilities as outlined in command and structure requirements. That person assumes the role of a Incident Commander, Safety Officer, Rescue Supervisor, and Company Officer. We in the business call these "hats." While we wear a lot of hats at work, we also wear a lot of hats at home. The typical firefighter also fills the roll at home of the gardener, pool boy, plumber, electrician, landscaper, and builder to name a few. Those skills, usually obtained by self-taught tenacity, play a huge roll in keeping our fire stations and equipment in top notch. The tax payer receives full benefit from idle firefighters when they take on station projects. Here, members of the Local 4349 work on restoration of the weathered and dated outdoor grilling area at Rancho Santa Fe Station #4. Engineer Sean Canfield and Firefighter Richard LaFleur put their skills to work fixing what often would require additional costs of specified labor, ultimately saving the District, and the tax payer, funds which speaks of the District's financial accountability. Bravo 4349!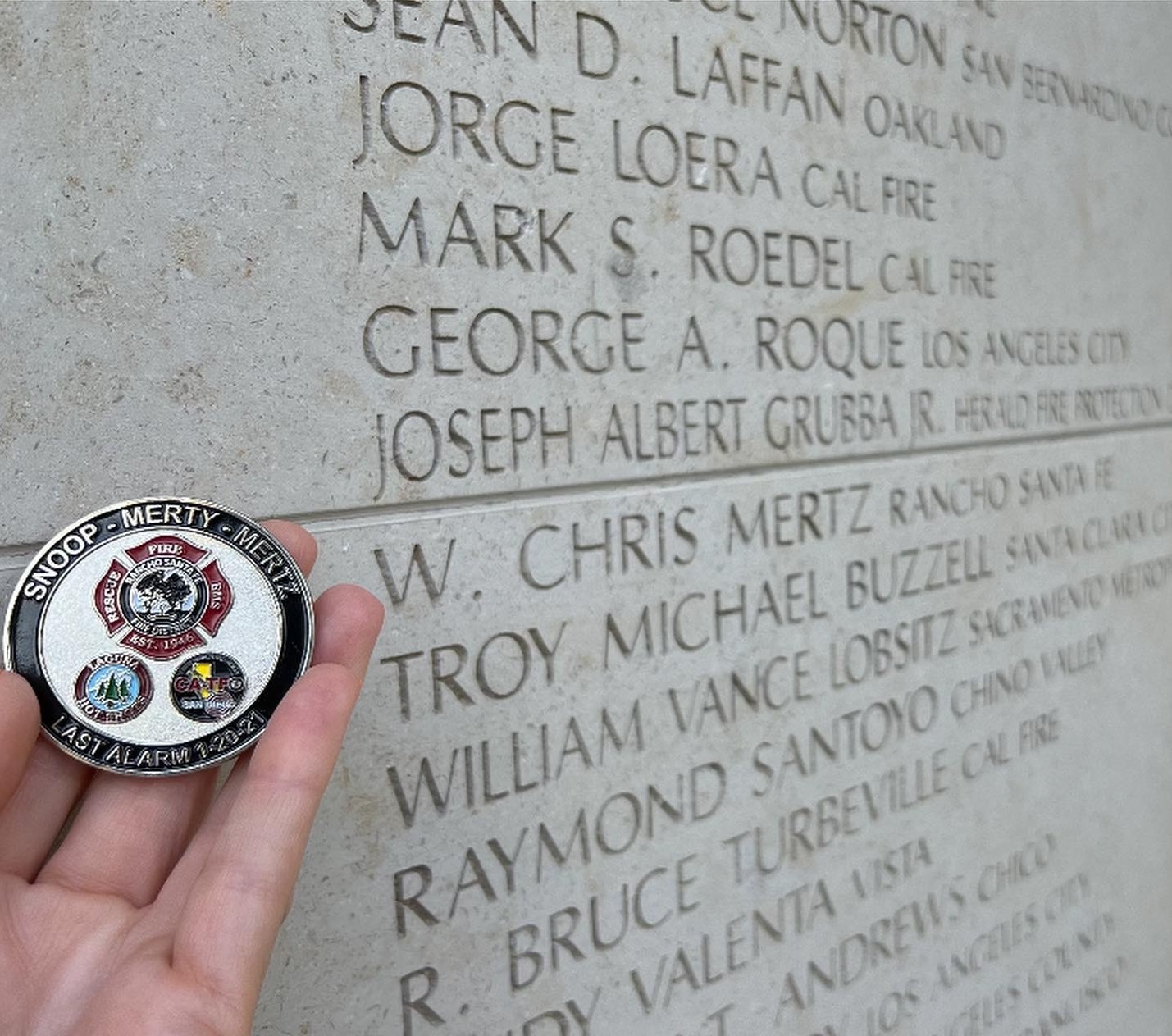 On January 20th 2021, the Local 4349 lost a great man. Last Saturday, Local members had the privilege of attending the California Firefighters Memorial Ceremony, hear his name called, and see his name etched forever into the memorial wall. Chris Mertz will be forever remembered.
November 16th marks the 1 year anniversary of the passing of our friend and colleague, Dale Mosby. To mark the occasion, the Rancho Santa Fe Firefighters kicked off the 1st Annual Mosby Memorial Golf Tournament at the Del Mar Country Club. Nearly half of the Local 4349 members showed up to play golf and pay respect to a great man. While the hurt still remains from this huge loss, some joy was had by the raising of $4500 by the participants and donors to go to the Firefighter Aid Fund that was instrumental in their help during this crisis last year. Dale will be forever in our hearts and never be forgotten.

While driving by the Cielo fire station in Rancho Santa Fe, one might wonder if the station's newest Brush Engine is having an identity crisis. Actually, the Ranch has had two recent acquisitions of brush engines. While both of them have very similar functions, one was purchased by RSF Fire (the red one) and the other by the State of California (the lime-green one). Through California's Office of Emergency Services, structure and brush engines are purchased and loaned out to agencies up and down the state to be used for free. The only hitch is that when the CalOES calls for it to respond to a State Emergency, we have to staff it with 4 firefighter's and send it to the incident. They are typically dispatched to large scale wildfires that ravage our state every June – October, but can also be pushed into service following an earthquake, flood, or any other disaster. As of this date, the State's OES Engine 6903 has been fighting its very first battle with a wildfire in Northern California and Oregon.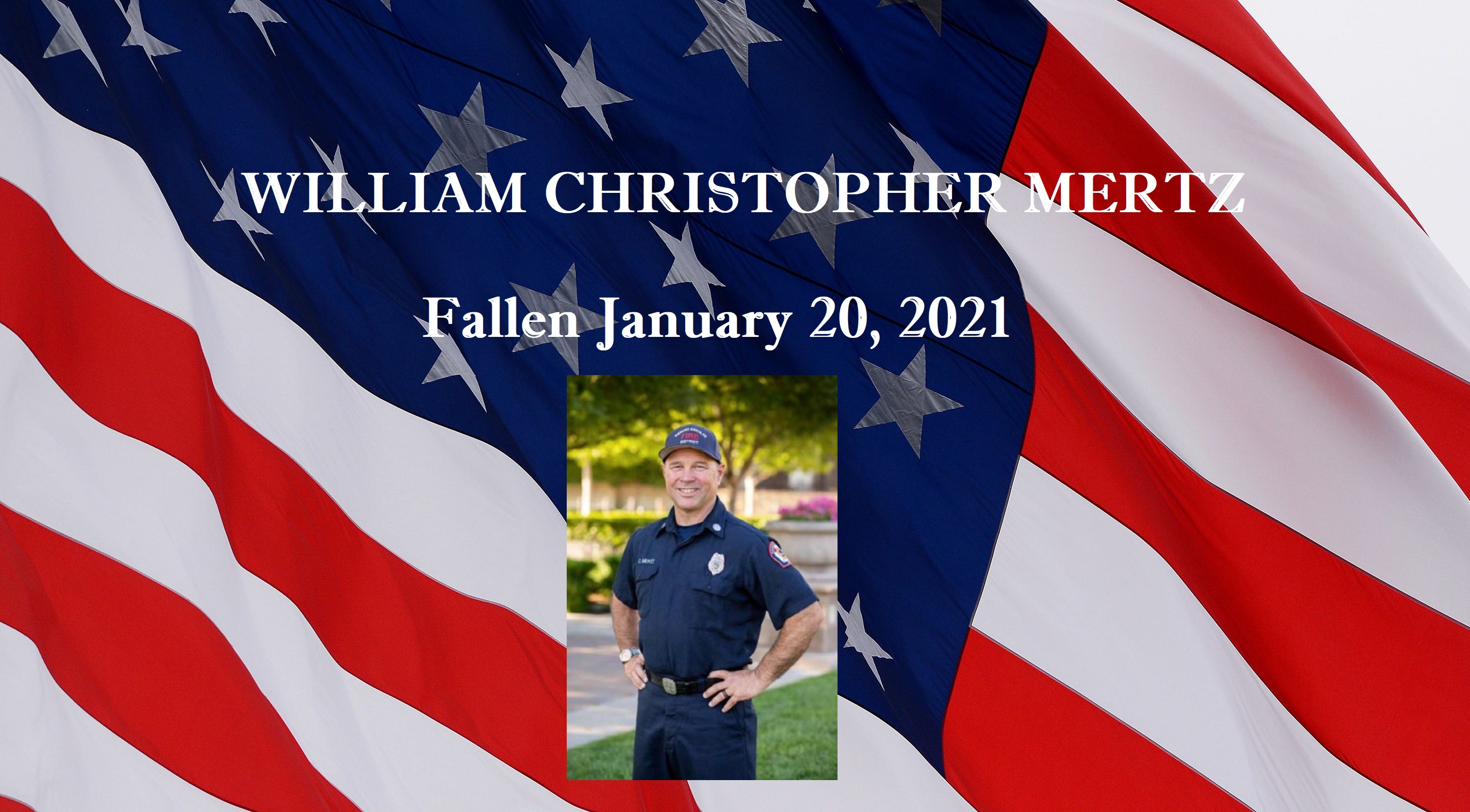 The Rancho Santa Fe Fire Protection District and Rancho Santa Fe Professional Firefighters Local 4349, are heartbroken to make notification of the loss of one of our own. Fire Captain W. Chris Mertz, a 30-year veteran of the Rancho Santa Fe Protection Fire District, passed away on January 20, 2021 from complications of COVID-19. Chris was 54 years old and worked at RSF Fire Station 5 in Harmony Grove Village.
Chris, not only had a distinguished career here at Rancho Santa Fe, but early in life worked for Federal Fire Department - San Diego and the United States Forest Service. During his time with the Forest Service, Chris served on the Laguna Hot Shots – an elite hand crew based out of the Descanso Ranger District. Chris was still active and one of the original members of San Diego Urban Search and Rescue (USAR) Task Force 8. He was a responder to the World Trade Center attacks in 2001 and to Hurricane Katrina in 2005. Chris was a member of the CSA Pipes and drums band and was an active member of IAFF Local 4349.
Our hearts go out to Chris's family; he is survived by his wife Canli, his son Garrett, who is also a firefighter with Cal-FIRE San Diego, and his two daughters, Natalie and Roxanne, both who are proudly serving our Country in the United States Air Force. Chris and his family are the epitome of the American ideal - people who love their country and committed their lives to serving their fellow citizens. Captain Mertz will receive full Line of Duty Death Honors. Donations in memory of Captain Mertz may be sent to the Rancho Santa Fe Fire Foundation https://rsf-firefoundation.org/. For further information, you can contact the Rancho Santa Fe Fire Protection District.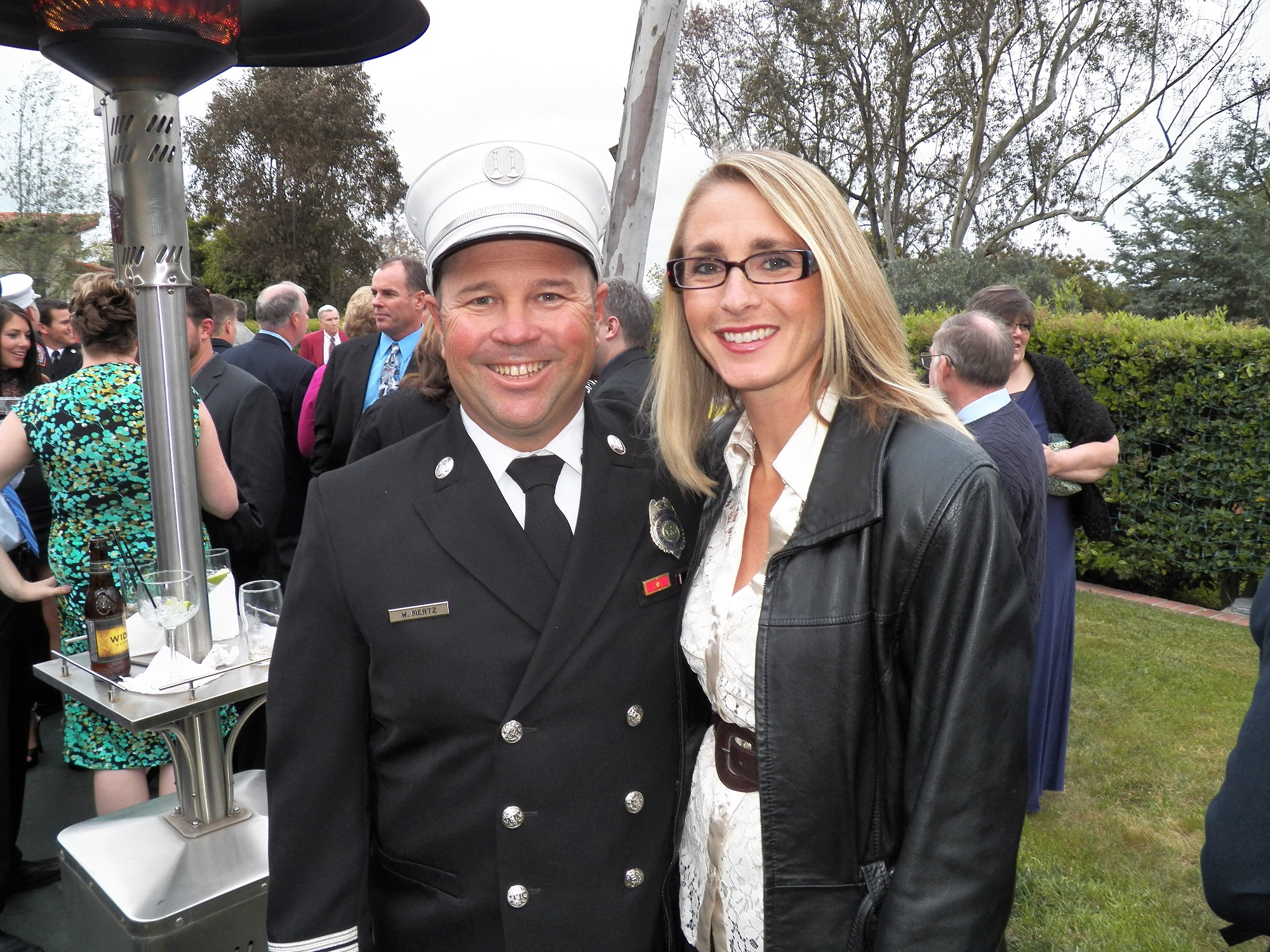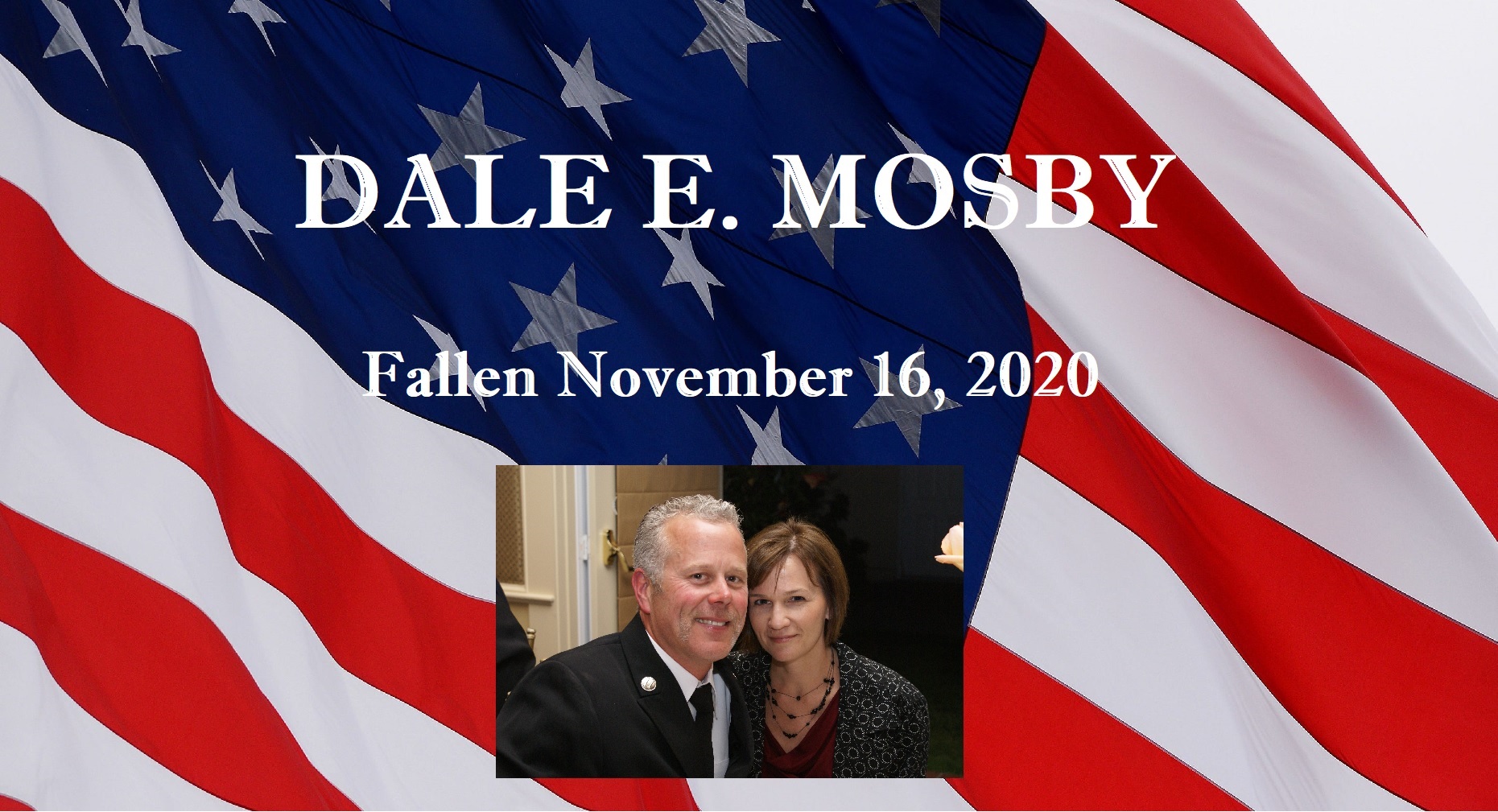 As a member of the Local 4349, it is with a heavy heart and deep felt regret, that we announce the passing of one of our beloved brothers, Captain Dale Edward Mosby, on November 16th, 2020. Although our hearts may be broken, our spirits remain strong. Strong to support his family forced to carry on in their sorrow; strong to maintain the legacy that he created through personal connections; strong to continue the work in which we were each called to do by emulating the core values that Dale cherished so much.
Dale possessed a strong sense of duty by responding to calls for service that most would flee from. His pride for this organization was seen in his dedication to training, embracing innovation, and dutifully managing his responsibilities. Dale offered his unique skillset contributing to the District's goal of providing a high level of service as part of the team. Having worked together to achieve those shared goals, he had gained the appreciation of his peers, many of which benefitted from his leadership which exhibited competence, integrity, and professionalism.
As the final alarm bell sounds honoring Dale's life, may it reverberate the remembrance of a revered brother of the badge, a dear friend and colleague, and a husband and father. May we never forget the fallen and continue to celebrate his life and honor his service.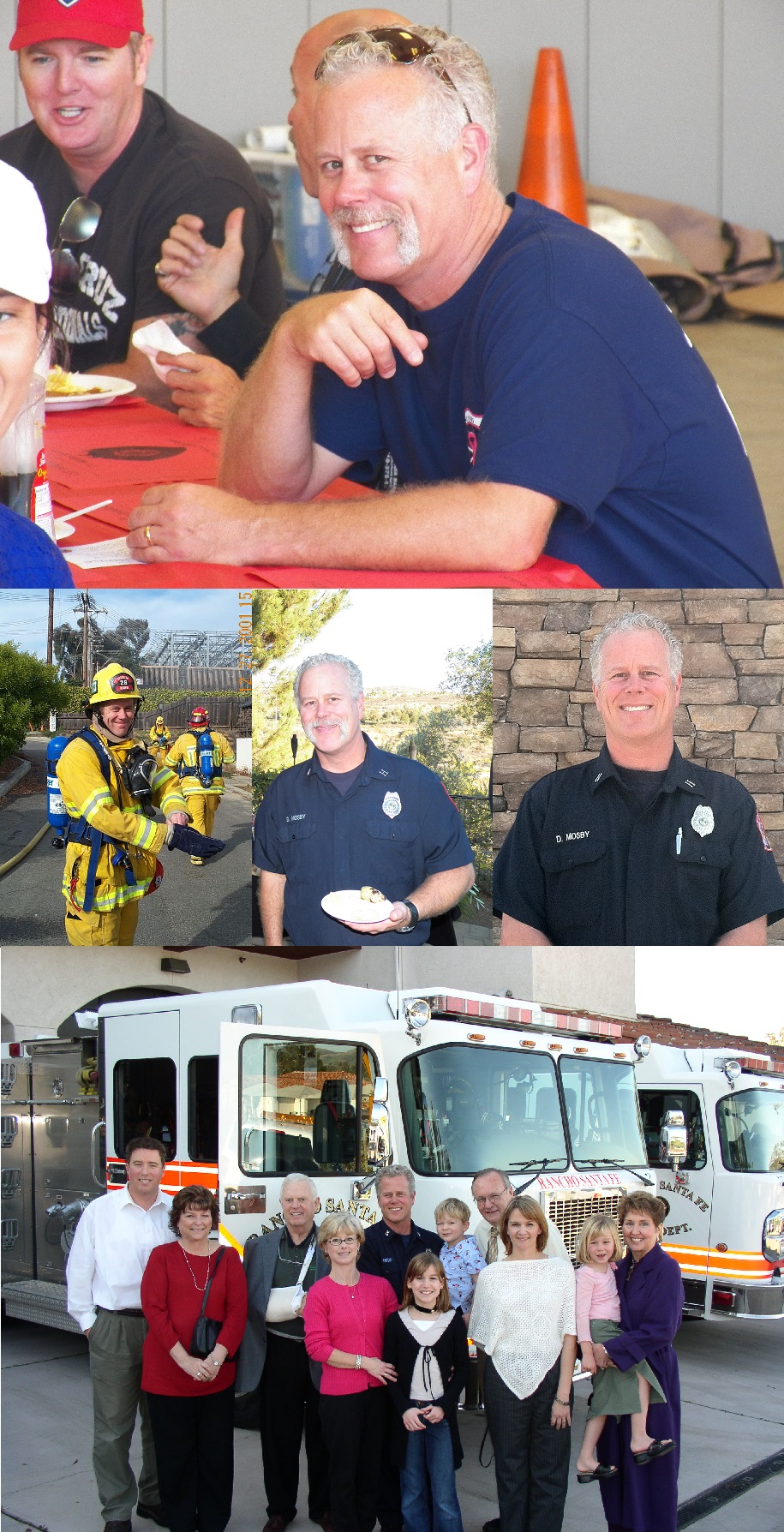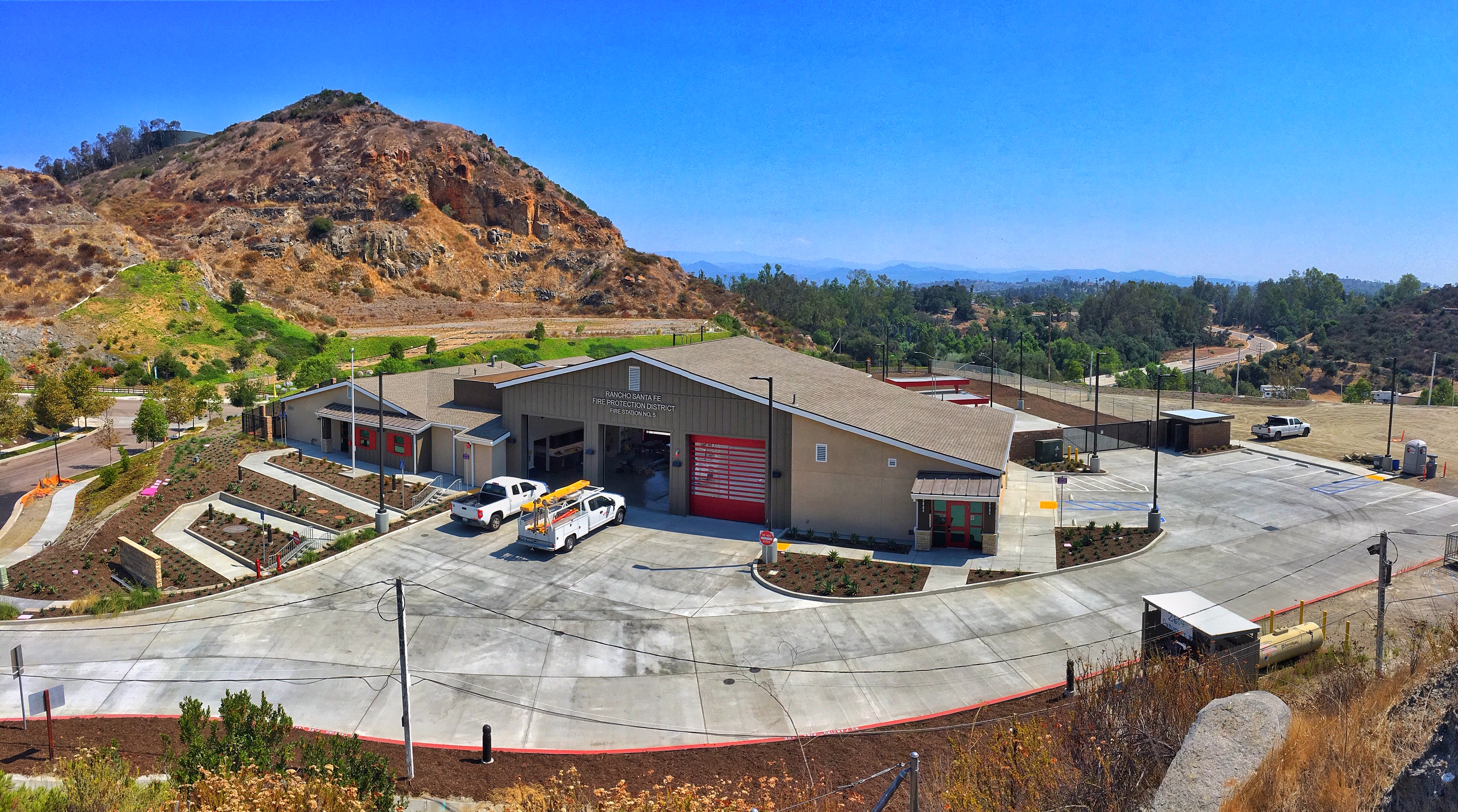 IAFF Local 4349 would like to officially announce the completion of our newest station in Harmony Grove. The location, 2604 Overlook Point Drive, has been the home of a fire station staffed by the Rancho Santa Fe Fire Protection District for over four and a half years, however, the living conditions have been less than ideal. The firefighters that were stationed here called two single wide trailers their home up until now. RSF Fire will later be announcing a date for the station's open house to invite the public to visit and receive tours, however, due to the current pandemic and social distancing guidelines, this will be delayed. Until then, Local 4349 members will be moving into this station and continuing to provide the highest level of service to Harmony Grove and surrounding communities.

We here at Rancho Santa Fe Fire, the Local 4349 would like to encourage our community to stay diligent in its measure to slow the spread of the COVID-19 virus. We understand that much of the population will eventually contract this virus, but if too many people get it all at the same time, then it becomes taxing on the Emergency Medical System. The CDC has established guidelines on how to limit exposure and slow the spread and they should be followed. These consist of limiting travel, home confinement, not gathering in groups larger than 10 people, and staying at least 6 feet from others. Although social distancing seems to be a burden on the public, studies have shown that it can greatly reduce the spread of this disease.
Many people who contract this virus will have a mild response exhibiting symptoms no worse than a common cold. Although patients who have this should be monitored for worsening symptoms, the real danger is to the elderly population. Those that are experiencing shortness of breath, poor perfusion, or a high, uncontrolled fever should absolutely seek further treatment immediately at a hospital or accessing the 911 system. Many people believe that transport by an ambulance to the hospital is a way to bypass the long lines and waiting rooms at the local emergency room, but this is false. Ambulances are often instructed to drop their patients off in the triage area of the emergency room to be evaluated by the staff to determine the severity of their condition as those in the most severe categories are tended to first. So, if you suspect that you have the COVID-19 virus, or even the flu or common cold for that matter, and you are experiencing normal, manageable symptoms, there is no need for you to access the 911 system. A phone call to your primary care physician is appropriate and they will further direct you. For further instruction on how to manage your health from home click on the link below.
http://www.sandiegocounty.gov/content/dam/sdc/hhsa/programs/phs/Epidemiology/CDC-10Things.pdf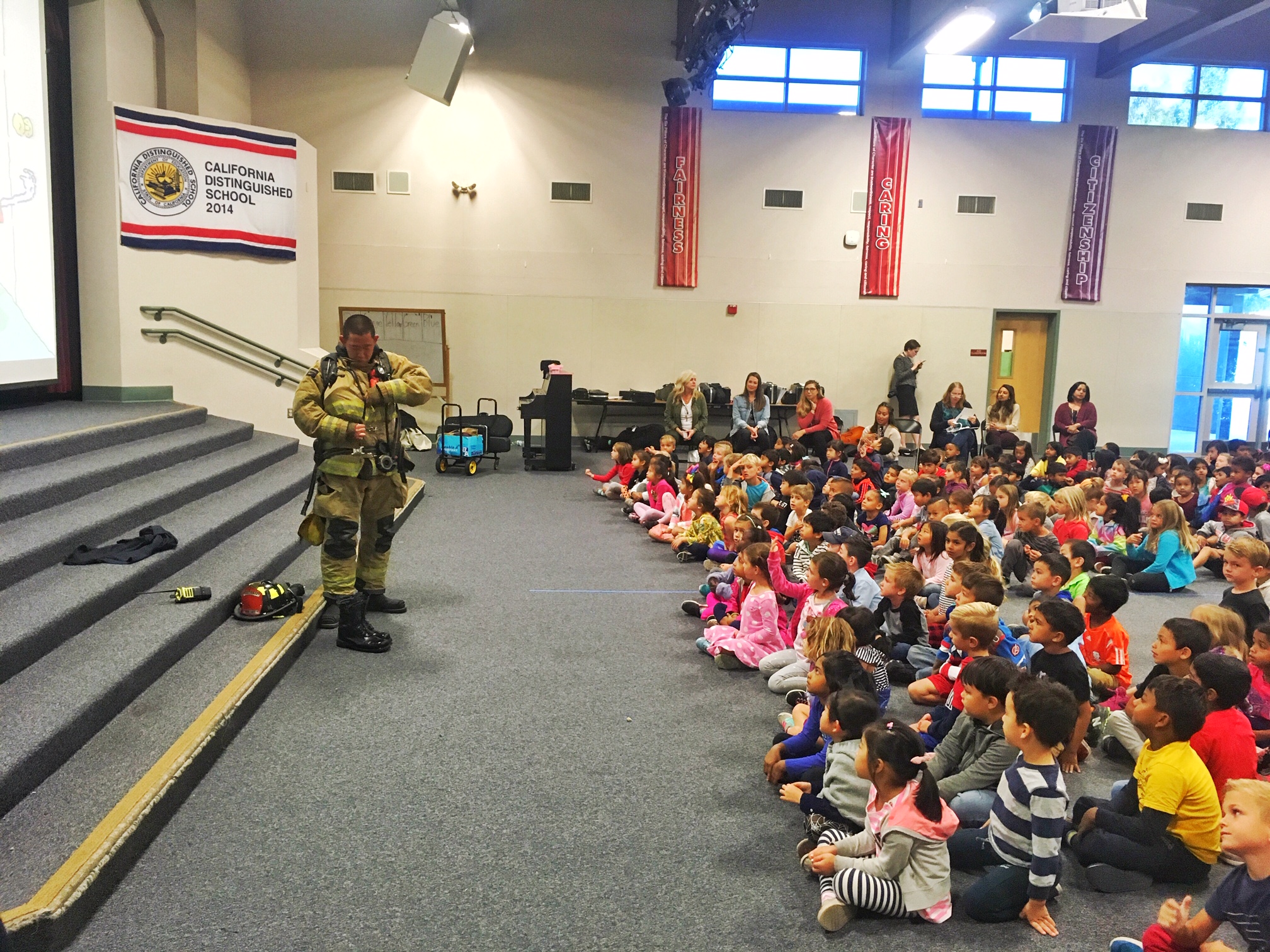 Every October, the Local 4349 teams up with the Rancho Santa Fe Fire Prevention team to go into the schools and teach about fire safety. Each grade levels are taught different aspects of fire safety. The youngest students learn about not playing with matches and lighters, stop drop and roll, and are shown what a firefighter looks like when they are dressed up in their turnouts, mask and breathing apparatus. Our newest firefighter, Harry Lee, demonstrates that "It's just happy firefighter Harry inside all that gear and not to be afraid if he, or someone like him, was to enter their house during a fire and search for them." If was fun to share and teach the students of Rancho Santa Fe's district and we would like to extend our appreciation to the schools that participated.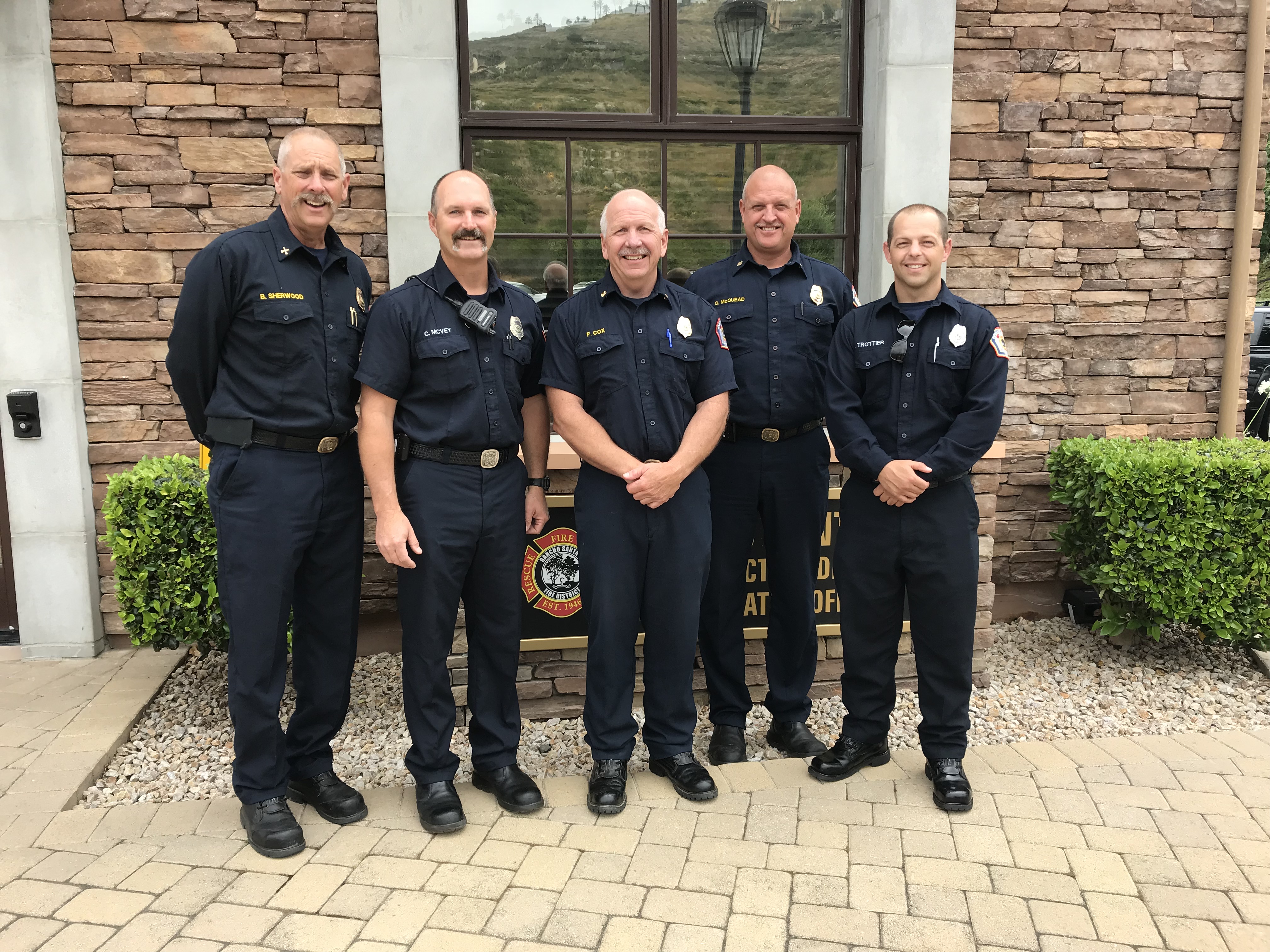 Newly Promoted Captain Craig McVey (2nd from left) and Engineer Alex Trottier (Far right).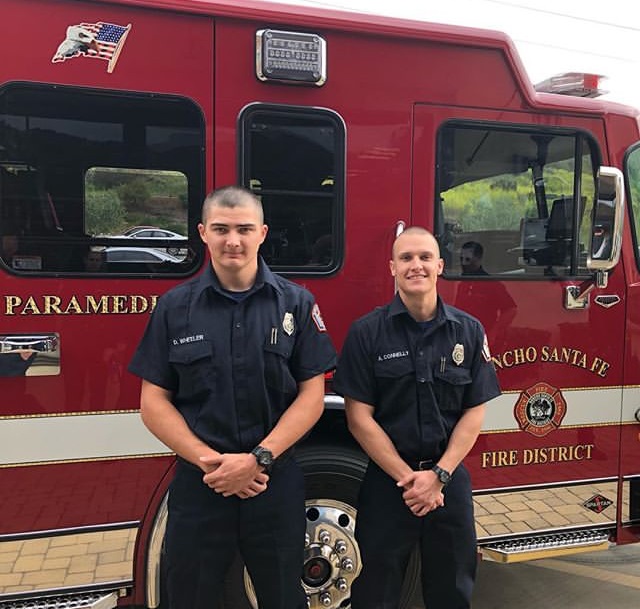 Local 4349 would like to welcome our newest firefighters
Derek Wheeler and Alec Connelly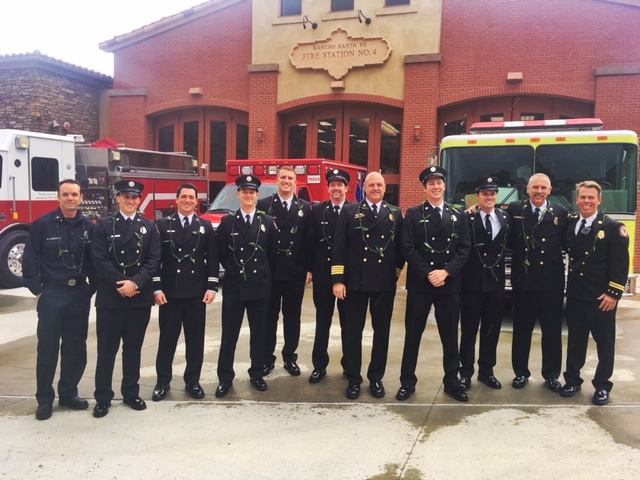 RSF Local 4349 Firefighters would like to congratulate this years recent promoted members.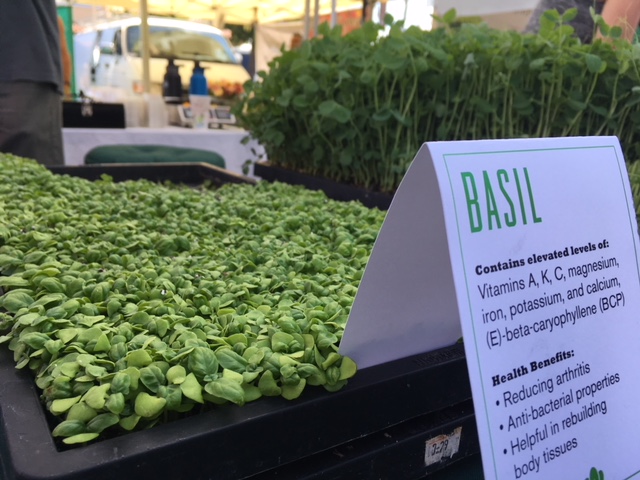 Brian Ciuchta is one of Local 4349's most fit employees. In an attempt to meet his nutritional needs for the ultra marathons he competes in, he has been experimenting with growing Microgreens. According to the U.S. Department of Agriculture "microgreens" is a marketing term referring to tiny, edible greens grown from the seeds of vegetables and herbs. They're smaller than baby greens and bigger than sprouts. Microgreens germinate in soil or soil substitute, require sunlight for growth and are harvested when they're 7 to 14 days old and one to three inches tall. Their flavor is much more intense than that of mature greens. You can add them to salads or use them to garnish soups and sandwiches. So is Brian on to something or is this just an unsubstantiated health claim? Actually, microgreens do appear to have a significant nutritional advantage. A study from the USDA's Agricultural Research Service (ARS) found that, at equal weights, almost all of the tiny greens contained about five times more nutrients than found in the mature leaves of the same plants. Buying and using your microgreens can sometimes be difficult. Commercially produced varieties found in your local store are stored in plastic containers that do not allow for extended shelf life. The best way to buy your greens is either alive or freshly cut. Well, visitors to the Fairbanks Ranch Farmer's Market on Sunday mornings are in luck. Our very own Local 4349's "microgreen expert" is on hand selling his nutritional gold. So head on down this Sunday, look for the High Ranch Farm booth, and get a taste of this new healthy trend!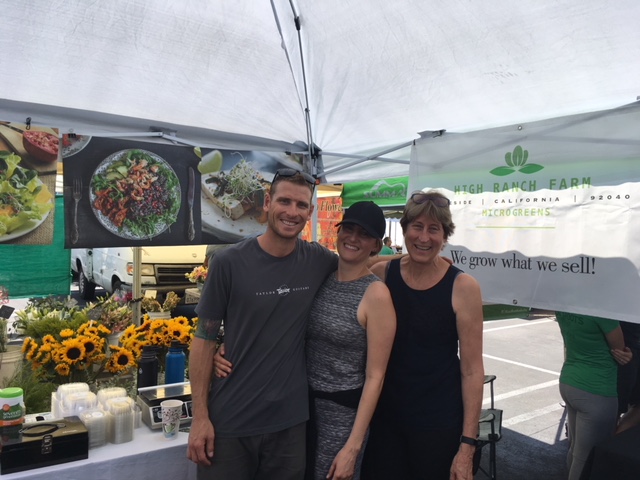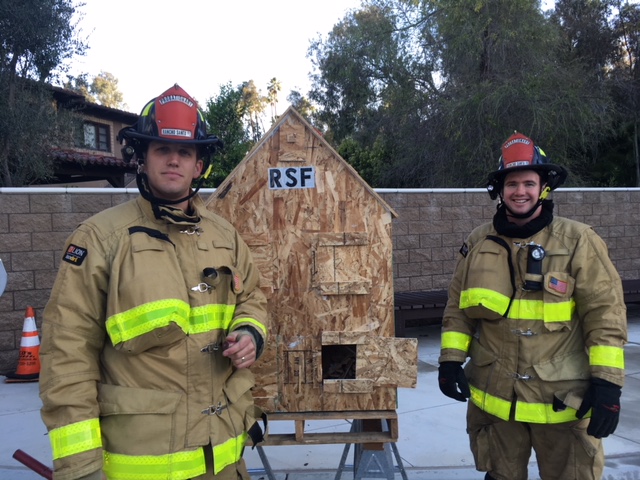 Rancho Santa Fe Local 4349 Firefighter's Richard LaFleur and Haydne Shimer construct a training dollhouse. During the first year of a new firefighter's career, they are instructed to build a small version of a house. We then ignite a fire in the lower room and examine how the fire behaves, where the smoke travels, and when the conditions could become dangerous. By controlling the air flow into the fire, these firefighters can simulate backdraft situations where smoke and fire explode out of an open door. By training in this manner, we avoid putting our firefighters in harms way but are still able to learn in a real fire environment.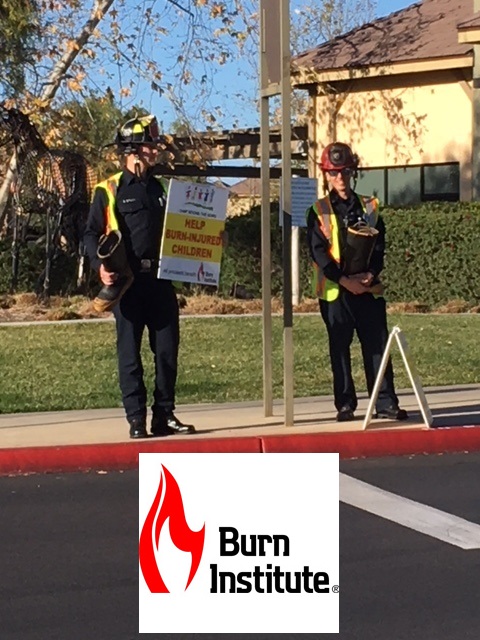 Each year the Local 4349 participate in a Boot Drive to raise money to send burn injured children to camp. This year, Rancho Santa Fe Firefighters raised over $14,000 for this amazing organization. Thank you for all who participated.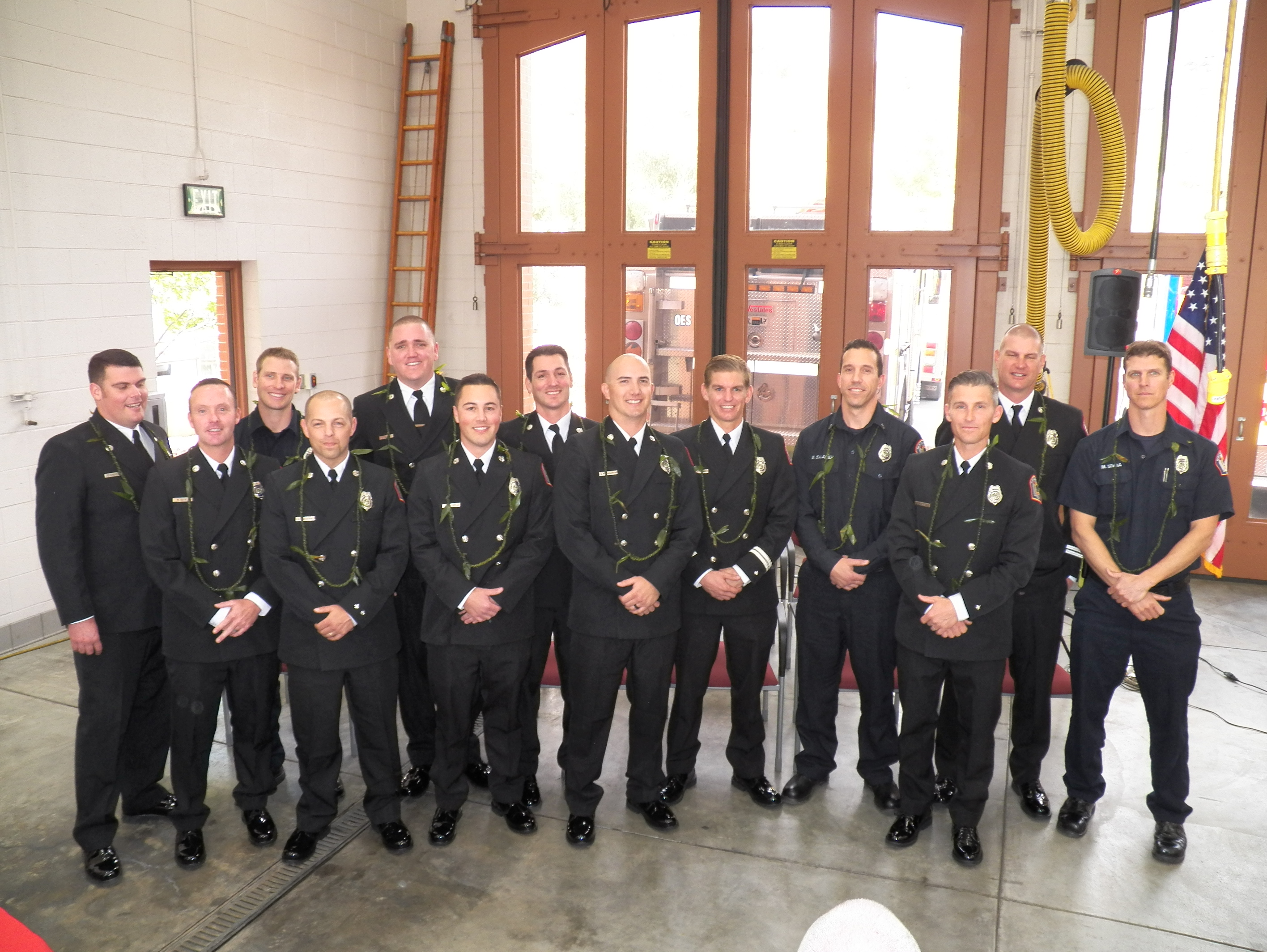 Congratulations to our newly promoted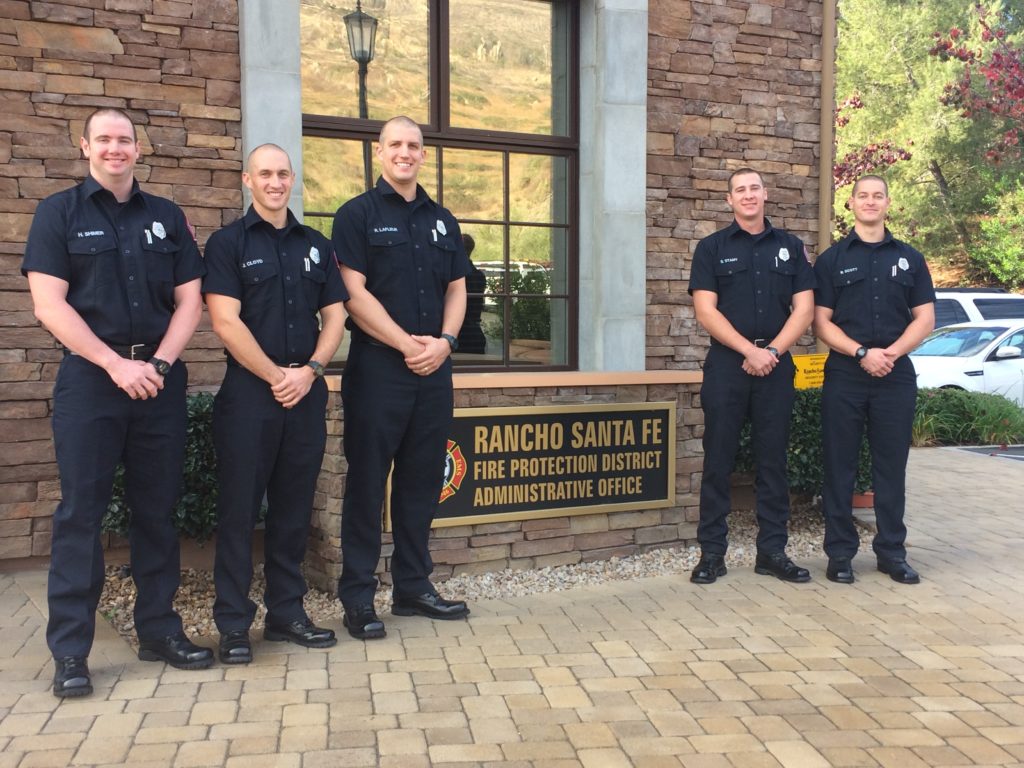 Local 4349 welcomes Haydne Shimer, Justin Cloyd, Richard LaFleur, Sam Stamy, and Robert Scott. Good luck on probation!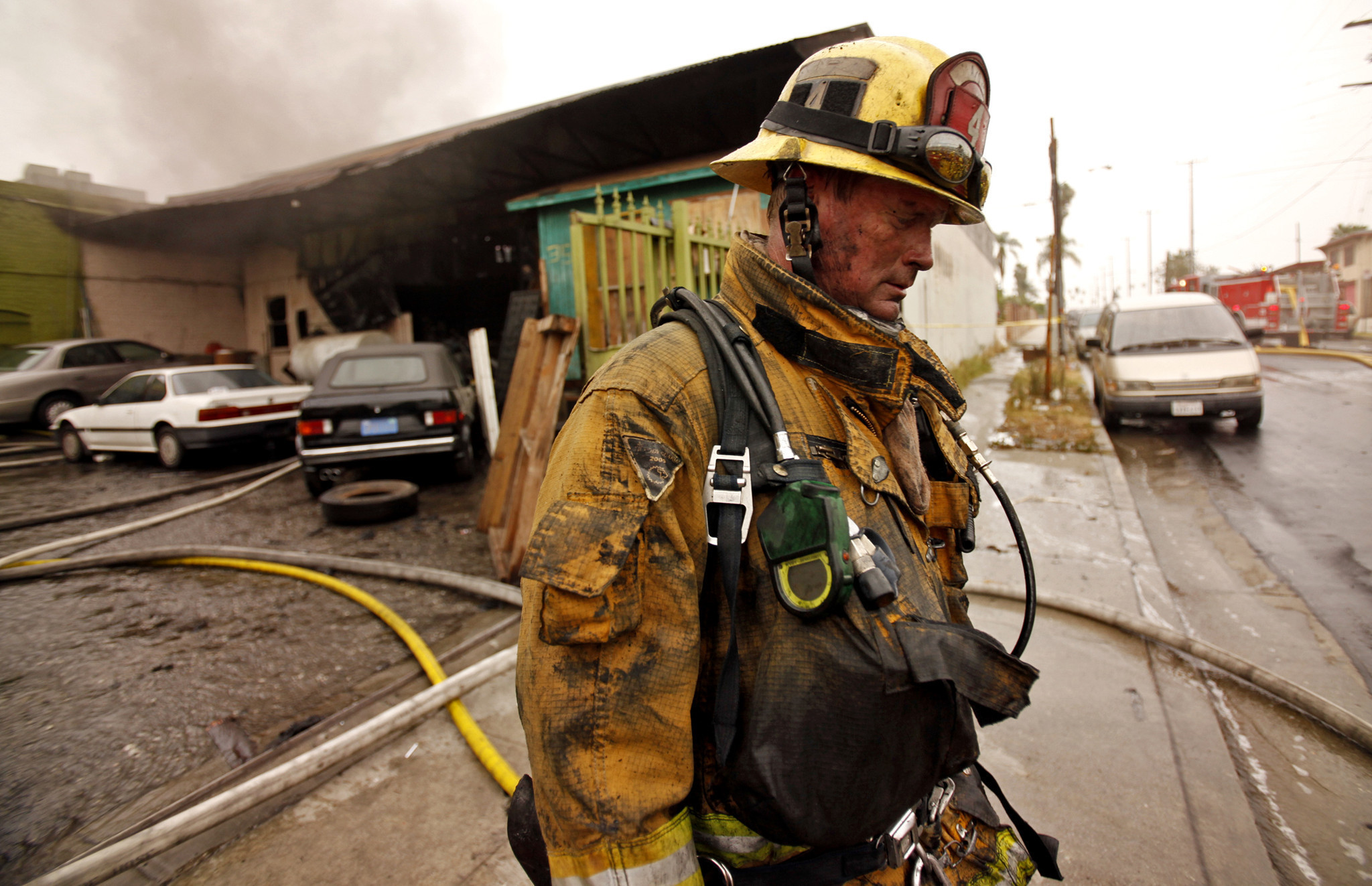 A recent article posted by KTLA in Los Angeles reported that three Los Angeles firefighters earned a combined $1.36 Million in 2016. The top earner receiving $469,198 in which $334,655 was from working overtime. You may be asking; "How could firefighter make so much money; and why can't that happen to me?" The details of what is required would turn your wildest dream into your biggest nightmare.
Every few years some news agencies like to post some public employee's annual income simply for the shock factor. Unfortunately, the articles never really paint a good picture of what is actually going on with that statistic. I'd like to shed some light on this reality.
Do you work 40 hours a week at your job? Would you be willing to work a 56 hour work week? How about a 156 hour work week? If you are doing the math in your head, let me save you the time. There are 168 hours in a week. While the average American employee works 40 hours a week, firefighters work 56 hours. This fire Captain mentioned in the article, estimated on the amount of overtime income received, worked, on average, 156 hours each week. That equates to 11 hours off from work each week for a total of 22 days off during the 2016 year. While 8 hours of straight work is normal for most, some private sector employees may push it to 10 hours to earn a little extra or have every other Friday off. Firefighters work 24 hour shifts where the busiest units run in upwards of 20 plus calls for service within a 24 hour period. There is not much of a chance to catch more than 30 minutes sleep at any one time. We don't know where this Captain was stationed and we don't know how busy his unit was, but even a moderate to low volume of calls would have been exhausting.
Overtime in the fire service is necessary and unavoidable. Most public sector employees can use a sick day or take a vacation with only the burden of postponing meetings and setting up an automatic "Out of the office" reply on their email. Often, no one is needed to fill in for them. In the business of Emergency Services, an empty seat, caused by a sick employee, would require that a fire engine goes out of service. That could be life threatening if a fire engine or ambulance took an extra 10-20 minutes to get to your house in the event of a fire or medical aid. In the case of LAFD, currently there are 244 unfilled firefighting positions left open to fill. That's like 81 employees calling in sick every single day on top of those who actually are sick or are on vacation. Firefighters are often held at work and not allowed to go home, without a choice, for 5-7 days in a row. These can be brutal stretches of constant work.
People also overlook the psychological effects of working so much. Families struggle from being apart. Holidays spent working, children's dance recitals and baseball games missed, along with stressed marriages can make life difficult. A firefighter that works even a moderate amount of overtime would require the absolute support from his, or her, family to the extent of the spouse not being able have their own employment. Most salaries discovered on sites like Transparent California, often reflect a "household" income and not just one employee. Furthermore, a lack of sleep, strenuous labor, dealing with situations that would send most into PTSD, all for chance to earn $400K? That's just not worth it.
The question is, what is a firefighter worth? How much should it cost to make sure that every time you pick up that phone and dial 911, someone comes to your aid? Would it have been better for these overtime hours to be spread out among the LAFD workforce? At least that way news agencies wouldn't be able to post some shocking article on an employee's annual income to enrage the general public. Either way, to keep the services available that we all count on, fire departments should maintain full staffing as to not impact the physical and mental wellbeing of their employees and continue to fill any and all vacancies with any firefighter willing to serve.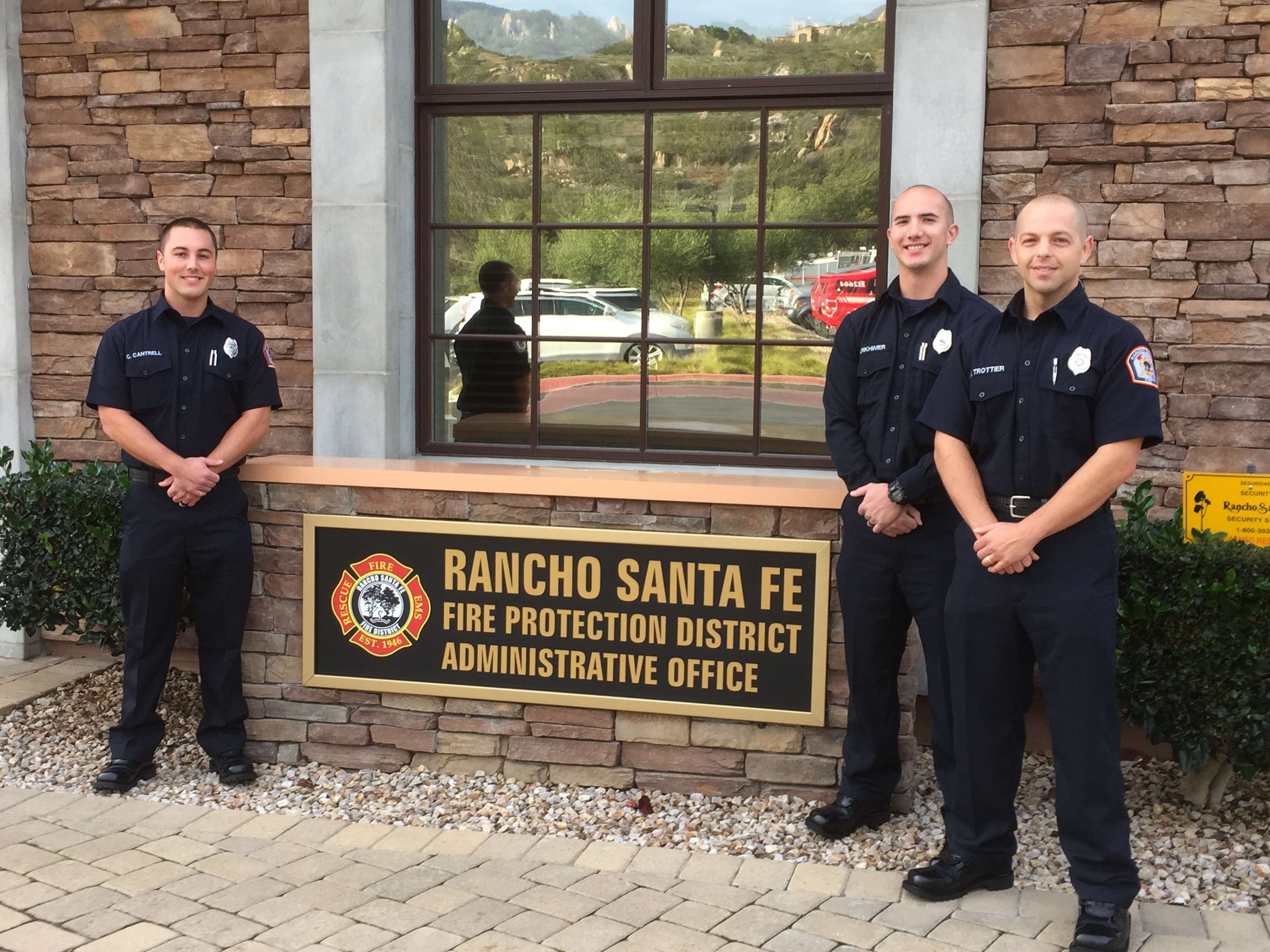 The Local 4349 would like to welcome to the District 3 new employees!
(Left to Right) Chase Cantrell, Jake Barkhimer, and Alex Trottier.