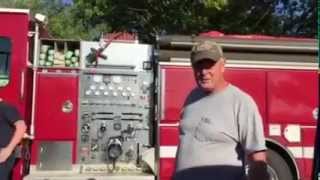 A recent video on the internet portraying a Butte County Fire Company being heckled by a citizen for shopping for groceries brings forth an interesting issue. The debate ranges in topic from area emergency coverage, public impression, and firefighter work schedules. The Butte County firefighters were respectful and cordial in this face of opposition and all was caught on tape by a pro-firefighter bystander. The heckler in the video confronts the firefighters at a local grocery store as they are returning to their fire engine after shopping for food. He goes on to state that the engine crew should do their shopping at a specialty high-end grocery store that is closer to the fire station so that they can respond to calls faster. This man making these remarks fails to grasp the entirety of the facts as he threatens to file a complaint with the local governing board.
From my own experience with the residents I speak to, many don't realize that we work twenty four hour shift work. That means we arrive at work in the morning at 8am and leave the next day, twenty four hours later, at 8am. It seems obvious that packing a mere lunch would not suffice for the entire shift. In addition, our kitchen is the size of a normal residential kitchen equipped with one range top, oven, microwave and sink. Often these stations house multiple fire units and companies to run them in upwards of 8-12 personnel. Imagine the confusion and lack of space there would be in a kitchen having that many people trying to prepare their own meal at the same time. That is why most full-time fire stations across the country organize their meals by participating in a common mess. That means that each person pays into a meal fund and a few guys cook for the masses.
When I tell residents that we purchase our own food on our dime, they often reveal that they thought the tax payers paid the bill if they expected the firefighters to be there twenty four hours a day, seven days a week. I've heard stories about firefighters being heckled for buying steaks at the grocery store because it was perceived that taxes were paying for those steaks and firefighters should be eating cheaper. The truth is, we by our own food and it is often more expensive to eat at work than at home. I can see why the Butte County firefighters bypass a specialty grocery store to opt for an affordable store a little farther away. After all, we are just firefighters, earning a modest wage, often on a single income due to our commitment, and trying to make our money stretch.
Emergency coverage is taken very seriously by every emergency responder agency across this country. Often units are moved, or staged, in areas to maintain coverage for when a unit is out of service due to mechanical issues, training, or commitment on another emergency. It is unlikely that a unit, in this case Engine 64 of Butte County, would leave their response area to shop without providing for some coverage. Often the grocery stores fire engines visit while on duty are within their first-in areas, but if not, managers make sure that stations are covered by other units if need be. The grocery store may not be the only place you may encounter firefighters out of the station. Fire agencies often rely on fire companies to conduct annual fire inspections in commercial buildings, including the grocery store they are also shopping at.
Firefighters make an easy target for some disgruntled members of the public that don't approve of how their tax dollars are spent. Much like the often ridiculed traffic sign holding road worker, each person has a job to do and without that one person the team breaks down and efficiency is lost or, in our case, lives are put in danger. The importance for a person to "Stand-by" for an emergency is rarely seen until the need arises. The fire service has changed throughout the last hundred years but the premise is still the same. Protect life, property, and the environment from the threat of any disaster and to respond to the needs of the citizens we serve in the most efficient, timely, and fiscally responsible manner possible. It is a shame that some people's negative rants are aimed at the same people who have sworn to protect them. However, these attitudes are rare, especially in Rancho Santa Fe, and we are more likely to be greeted and thanked while in the grocery store than heckled for being there, and for that, we thank you for your support.